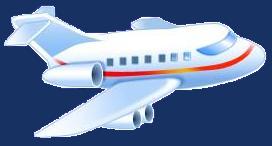 Air Flights & Fares:
At your request, we will check all airlines and air fares for you from any North American Airport. We will provide you with the lowest air fare and/or best flight times being offered at the time of the request.
Best airfares are available about nine months prior to each vacation.
When booking your flights, there are two options: we book your flight or you do.
All airlines offer on-line bookings, once you decide on your flights, you will need your
passport, credit card, resort name or cruise ship information.
It is best to get the earliest arrival time especially for our cruises.
If you are not that a flight will make it to the ship on time, contact Bob Wojtowicz or
the musician you are working with for assistance.


Travel Options
1. Optional Travel Insurance - travel insurance is available for every trip, check the fliers for more information regarding travel insurance costs per person.
2. Optional Payment Plans - a $350.00 deposit is required for each guest at the time of booking. You can pay off the balance of the trip 30 days prior to the departure date or you will be billed for 50% of the balance 60 days and 30 days before the departure date.
3. Extended Vacation Plans - You can extend the length of your vacation at a resort by booking additional days before or after the scheduled group dates. Most cruise lines offer a second week cruise on the same ship to different ports of calls. If you would like to take a back to back cruise or if you would like to extend your vacation at a resort, contact Bob Wojtowicz and he will contact the resort and get you a quote.
TERMS AND CONDITIONS
DEPOSIT: A $350.00 per person deposit is due upon booking. Reservations will not be confirmed without a deposit.

FINAL PAYMENT: Due no later than 30 days prior to the departure date. Payments made after this date may be assessed a late fee.

All payments made by check should be written out to Bob Wojtowicz.

Credit card payments will be charged to the credit card provided.

CANCELLATIONS AND REFUNDS:

All-Inclusive Cancellations:

A $50.00 per person cancellation charge will be assessed from your payment if you cancel at any time, with or without trip insurance from Bob Wojtowicz.

Cancellations made more than 30 days from the departure date will be refunded in full less the 50.00 cancellation fee.

Cancellations made 14 days or less do not qualify for a refund and must be cancelled with a registered letter to Bob Wojtowicz.

Cruise Cancellations:

Full payment due 90 days before departure. Check flier for date.

Cancellation Schedule: 74 to 57 days $250 penalty per guest; 56 to 29 - 50% penalty; 28 to 15 - 75% penalty and 14 to 0 - 100%. (Insurance coverage would cover the penalty)
TRIP INSURANCE - Is recommended and available for each vacation. Check flier for details or contact Bob Wojtowicz.
ENTERTAINERS & BANDS: a headliner, musician or band may cancel or bring a limited number of musicians, due to the number of guests the group was able to book with the group.

Bob Wojtowicz has no control of who cancels and is

not

responsible for those who do.

Bob Wojtowicz; BobsPolkaTrips.com is only the travel agent booking your trip.


DOCUMENTATION:
All US/Canadian travelers are requested to carry a valid passport for all trips sponsored by BobsPolkaTrips.com.

Passport information is available for US travellers at your nearest post office or by visiting: https://www.usps.com/international/passports.htm